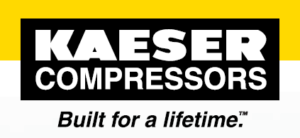 Industrial Air Compressors
Kaeser's line of industrial air compressors are designed for reliability, maximum efficiency, and easy maintenance
Kaeser's rotary screw industrial air compressors are available from 3 to 700 hp with capacities from 9 to 3044 cfm, and pressures up to 217 psig. All units are fully packaged, ready for operation. With sound levels as low as 61 dB(A), our compressors offer the best in quiet operation, energy efficiency, and reliability.
Designed for Maximum Reliability
In every machine Kaeser builds you'll find many features to enhance reliability and simplify maintenance, from the heavy gauge steel frame with double vibration isolation to the quick fluid change feature. Our airends are built to stand up to many years of tough service. TEFC motors are standard and we use hard pipe instead of lower cost tubing for internal fluid lines. Our air compressors have a well-planned cabinet design and component layout to reduce noise and footprint and provide easier access during preventive maintenance. The list goes on and on. Our customers expect excellence and we make it happen.
Compressed Air Dryers
Compressed air contains water vapor. As this air travels through compressed air piping it cools and the vapor condenses into liquid condensate. This condensate increases maintenance requirements and affects product quality. Kaeser offers a wide range of efficient compressed air dryers. Select the dryer that best meets the specific application requirements by evaluating air quality, pressure dew point and delivery volume.
Desiccant air dryers
Refrigerated air dryers
Combination dryers
Membrane air dryers
Compressed Air Filters
Superior filtration for compressed air systems
Every cubic foot of ambient air contains millions of particles of dirt, dust, moisture vapor, and hydrocarbons. Inlet filters protect your compressors from the larger bits, but the majority of these contaminants pass through the compressor and affect compressed air quality downstream. Further, the process of compressing air introduces compressor fluid and other contaminants into the air stream. To protect your expensive tools and production machinery and increase product quality, you need to remove condensed liquids, solid particles, hydrocarbon aerosols, and perhaps even hydrocarbon vapors.
Kaeser offers a complete line of filters —including moisture separators, particulate filters, coalescing oil removal filters and vapor adsorbers— to deliver superior air quality in accordance with ISO 8573.1 for whatever your application demands, from general shop air to clean room quality for pharmaceutical and sensitive electronics manufacturing environments.
SmartPipe – Compressed Air Piping System
SmartPipeTM aluminum piping system is available in sizes up to 8″ diameter
Compressor room installation
Kaeser's SmartPipeTM is a modular aluminum pipe for compressed air installations, offering both lower installation costs and lower long-term operating costs. From small shops to large industrial systems, SmartPipe is great for all facilities and is available in sizes up to 8″ pipe diameter.
SmartPipe is easy to install
Fast to install and easy to modify, Kaeser SmartPipe is the most versatile compressed air distribution system available. Our combination of lightweight materials and connectors dramatically reduce labor and installation time, especially in overhead installations.
Optimum flow and air quality
SmartPipe's smooth calibrated aluminum construction has a low friction coefficient, providing the best possible laminar flow. Full bore fittings further minimize pressure drop for optimum flow and energy efficiency. Leak-free connectors prevent air loss and wasted energy.
SmartPipe is ideal for installations requiring the highest quality air. Aluminum material will not rust or corrode. Further, it has no rough surfaces or interior restrictions that accumulate contaminants. The smooth interior with full bore design allows them to flow to your dryers and filters for efficient removal.